Dilated in an area of 65 acres, Jatayu Nature Park is the largest sprawling bird sculpture in the world. God's own country, Kerala is about to set another attraction along with its backwaters, sunsets, and hills and along with other nature embracing beauty.Jatayu, as the name suggests is a mythological denomination of Ramayana. Jatayu was the king of Birds who helped Lady Sita when Ravana kidnapped her and was escaping by air route. He was killed in a fight with Ravana. Jatayu's brother guided Hanuman towards the route to find Sita. This nature park has been named after him.
The nature park's background will attract the visitors from all around the globe because it will have a plethora of things to offer such as adventure, wellness and most of all, the mythological stories in an interesting manner.
This park will also have a 6-D theater and an audio-visual based digital museum. The government of Kerala, for the first time, has joined hands with the private player to build a nature park. This will surely attract the tourists for the state.
Here are some of the other details of the park :
Jatayu Sculpture
With 15000 sq.ft of the area, this will be world's largest sculpture. It will be 200 ft long, 150 ft wide and 70 ft high. And the most interesting fact is the height of this sculpture above sea level. Yes, it is 1000 feet above the sea level.
Jatayu Rock
'Kiskinda kand' of Ramayan tells us about the incident when Ravana was flying away after kidnapping Lady Sita. When Jatayu saw him, he fought with him till his last breath. Victimized in the fight Jatayu fell down on a mountain, where rocks were carved by his beaks. This rock has been named as Jatayu rock, where footprints of Lord Ram are still available.
Total Expenditure In The Project
The Jatayu Natural Park has been initially granted a fund of one billion rupees. The government of Kerala has announced for further assistance if needed, and it's for the first time that government has tied up with a private firm to develop any park.
Heli-Taxi View
Like most of the parks having a heli-taxi to attract its tourists, this park will also have the heli-taxi facility. But it's really exciting and enthralling to imagine the height and expansion of this park, the aerial view will be a breath-taking experience.
Ayurvedic Cave Resort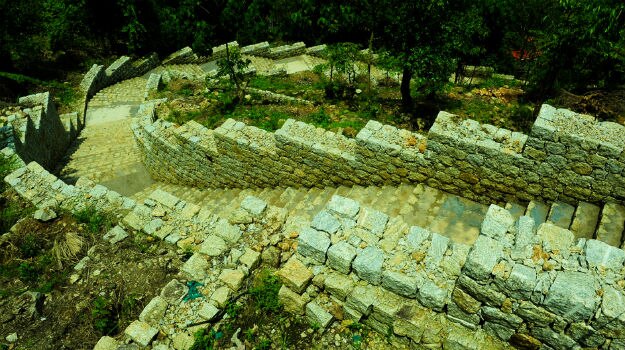 With pre-servings of sacred culture that this nature park has already inherited, this cave will be an extension of an Ayurvedic center which will suggest you nature diet. It will include all the modern day amenities accompanied by state of the art facilities.
This place has added beauty to Kerala tourism, as well it has ranked up India among the nations with having beautiful countryside and landscape.