Udipt Nidhi
: Thousands of Journalists, Editors, Columnists and NEWS Anchors are working day and night to accomplish themselves as Arnab Goswami. Having brilliant academics, successful journalism journey, an eloquent writer, a proficient speaker and most important he is an aggressive nationalist. In the present era of journalism, mostly the persons related to this industry are the followers of any particular ideology. Some are of leftist mindset, few are pro-Congress and some are ardent of Rightist view. Arnab is an exception, with having an aura of nationalism.
Background
Born in Assam, on 9 October 1973, he was a bright student in his academics. His Paternal Grandfather, Raj Kant Goswami was a leader of Congress party while maternal grandfather, Gauri was a leader of the opposition from Communist party. Both the grandparents were highly educated, Rajni was a lawyer and freedom activists. And Gauri was a renowned writer. Gauri was a recipient of Assam Sahitya Sabha Award. Arnab's father Colonel (Retd.) Manoranjan Goswami was an army personnel, but after his retirement from the force, he became a full-time member of BJP Assam. In 1998, he contested the election on BJP ticket against Bubhaneswar Kalita from Congress. But Manoranjan was defeated. His mother Suprabha Goswami is also a BJP member. Arnab's maternal uncle Siddhartha Bhattacharya was a BJP MLA from east Guwahati constituency.
Career
Arnab pursued his graduation in Sociology (Hons.) from Hindu College, Delhi University. He moved to St. Anthony College, Oxford University for his masters. He was a Felix scholar in Oxford.
Started his career with 'The Telegraph', after a year he was offered from NDTV 24*7. He joined the broadcast department, but gaining experience made way to the core team of editors. After resigning from NDTV, since 2006 he was editor-in-chief and news anchor at Times Now. His show 'Prime Time with Arnab' every evening had a huge appreciation nationwide. He hosted Dalai Lama, Hilary Clinton, Musharaff and other eminent global personalities. Arnab resigned from Times Now on 1st  November 2016 and started his own brand "Republic" with another co-founding member, Rajeev Chandrasekhar.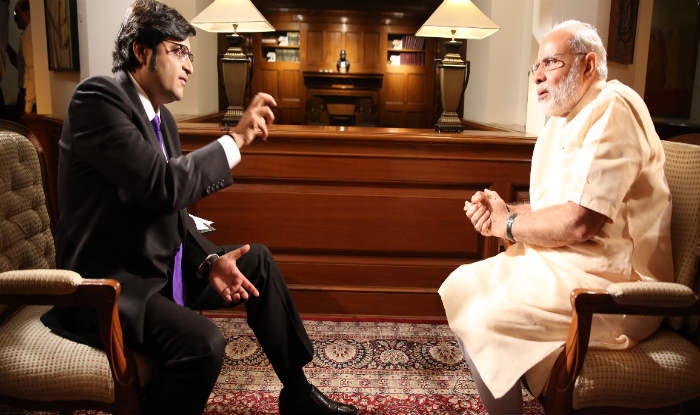 Awards
Arnab's first recognition on national Tv was his interview with Sonia Gandhi. He was the first journalist to interview Modi, after his grand victory in 2014. Arnab received many awards in his career that includes 'Asian Television Award', 'Society Young achievers award' for his excellence in media, 'Assamese of the year award' for News Live and 'Ramnath Goenka Award' for excellence in journalism. He was also chosen as 46th most powerful person in India in 'India Today' list 2012.
Hidden Aspects
Arnab's identity has always been controversial for his inhabitancy. Some claim him as Bengali, other Assamese. He is a Bengali with roots in Assam. Arnab married the lady he loved. Pipi Goswami was his colleague and classmate in Hindu College, she herself proposed young Arnab in college days. Arnab was waiting for it, and so he instantly accepted the proposal.